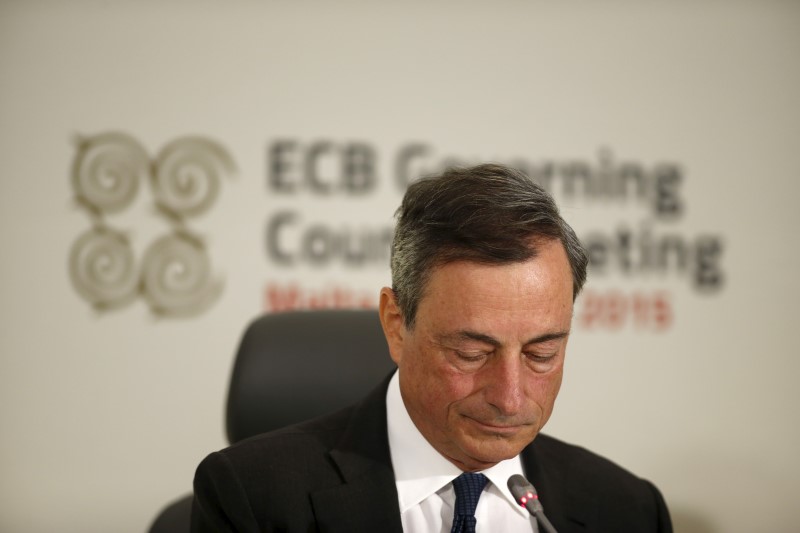 © Reuters. Draghi indicates that the ECB has had no discussion of interest rate hikes
Investing.com – As the European Central Bank provided several details on its plans to remove accommodative policy on Thursday, president Mario Draghi highlighted that the euro zone monetary authority had yet to discuss when interest rates would be raised.
No discussion of interest rate hikes
While the ECB decided to cut its monthly asset purchase program in half to €15 billion ($17.6 billion) at the beginning of October and noted that it was expected to end in December – although reinvestment of proceeds will be maintained – Draghi indicated that interest rates were likely to be on hold for an extended period of time.
"The Governing Council expects the key ECB interest rates to remain at their present levels at least through the summer of 2019 and in any case for as long as necessary to ensure that the evolution of inflation remains aligned with the current expectations of a sustained adjustment path," the ECB said in its policy decision.
Reiterating that point in the press conference's question and answer period, Draghi stressed the "at least through the summer of 2019" and added that "we did not discuss if and when to raise rates."
The euro, which turned negative against the dollar when the decision was published, extended losses after those remarks, hitting an intraday low of $1.1675. Following the end of the press conference, at 9:36AM ET (13:11GMT), EUR/USD was last down 0.93% at $1.1680.
Weaker short-term growth, stronger inflation
The ECB also updated its economic projections and predicted weaker growth along with stronger inflation for this year.
"June 2018 Eurosystem staff macroeconomic projections for the euro area foresee annual real GDP increasing by 2.1% in 2018, 1.9% in 2019 and 1.7% in 2020," Draghi announced. The 2018 growth forecast was cut from the 2.4% expansion predicted in March.
"The latest economic indicators and survey results are weaker," Draghi explained, "but remain consistent with ongoing solid and broad-based economic growth."
Overall, Draghi stated that the risks surrounding the euro area growth outlook remain broadly balanced.
However, he admitted that "uncertainties related to global factors, including the threat of increased protectionism, have become more prominent (and) the risk of persistent heightened financial market volatility warrants monitoring."
With regard to price stability, the ECB now forecasts annual inflation of 1.7% through 2020, compared to the March projections of 1.4% for this year and next. The estimate for 2020 remained unchanged.
Draghi explained that the changes were made because the ECB felt that progress towards a sustained adjustment in inflation "has been substantial so far".
"With longer-term inflation expectations well anchored, the underlying strength of the euro area economy and the continuing ample degree of monetary accommodation provide grounds to be confident that the sustained convergence of inflation towards our aim will continue in the period ahead, and will be maintained even after a gradual winding-down of our net asset purchases," he added.
sponsoredArticle = 'div-gpt-ad-1466339494851-0';